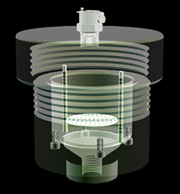 Key design details such as chamber construction, materials and threads are easily communicated and integral to the design process.
Chamber courtesy of Porous Materials, Inc.
Model by Nancy Heinz-Yerka
The integration of powerful, high-end visualization technologies into the core of the software makes the entire design process faster, more productive, and more understandable. With fully integrated, real-time, texture, bump, and decal mapping to represent design details—saving time and valuable data space. Effective communication to all contributors, at every phase, enhances collaboration and speeds product development.